Favela Residents Protest Against Police Violence & World Cup Impacts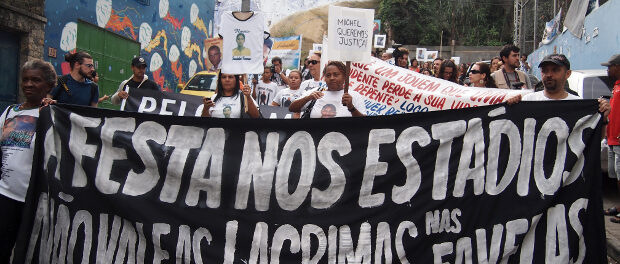 On June 23, on the eve of the one-year anniversary of the police operation in Maré which killed ten people, a demonstration took place starting in the Chapéu-Mangueira favela in Rio's South Zone. The protest united favela residents from various communities who are suffering brutal consequences associated with Rio's hosting of the World Cup and Olympics–such as the militarization of the favelas through Pacifying Police Units (UPPs) and the armed forces, forced removals, gentrification, and criminalization of local culture. Their message stated in the title of the event and banners used, was that "the party in the stadiums is not worth the tears in the favelas."
The UPP program is far from living up to its promise to bring peace and public security to Rio's favelas. The mothers of some of the victims of UPP police violence were present at Monday's event, including Ana Paula Gomes de Oliveira, mother of 19-year-old Jonathan de Oliveira Lima who was killed by the Manguinhos UPP in May. She stated that "I am here to demand justice in the name of my son, in the name of all the youth who've been killed. I am here to shout that the favelas cannot be silenced. I am convinced that united, the favelas will not be conquered." She and others demanded an end to the UPP and the militarization of the favelas.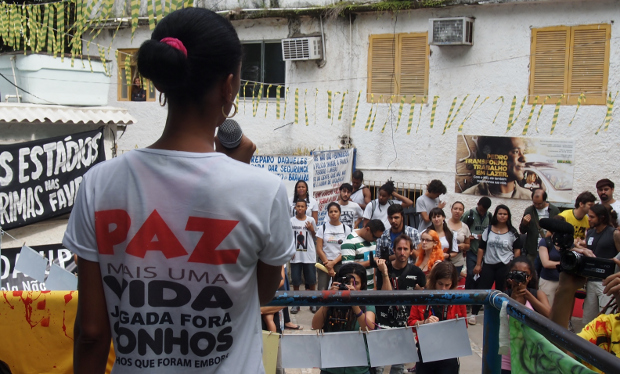 Children from the community painted crosses that were gathered in a black coffin decorated with bloody handprints, a strong symbol of the many lives that have been lost in "the war against the poor" in the favelas. Others painted Brazilian World Cup t-shirts on the wall with the names of some of the victims of the state, such as Cláudia Ferreira who was dragged behind a military police vehicle in March and Amarildo de Souza who was tortured and killed by Rocinha UPP last year, symbolizing the link between the World Cup and these killings. There were also capoeira, funk and hip hop performances, embodying the protest's slogan of "More poetry, less police."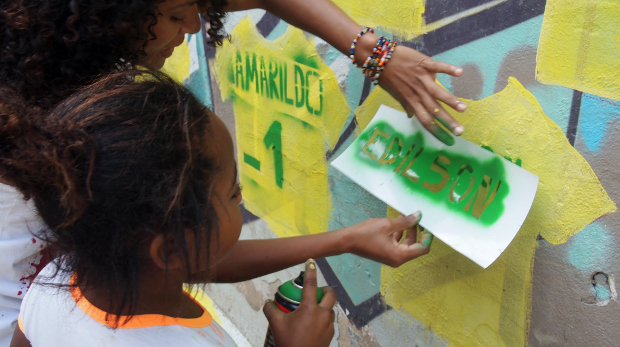 Members of feminist movements, teachers, and many others who have been protesting on the streets of Rio since June last year were also present in solidarity with favela residents. Christina Baroni from the Movimento Feminino Popular held up a picture of André de Lima Cardoso Ferreira, killed by UPP police in Pavão-Pavãozinho in 2011. She said the World Cup cannot cover up the suffering and death of the youth in the favelas and that the protest is important in bringing people and movements together to demand justice.
Demonstrators looked to highlight that police brutality and lethal violence are ongoing in UPP favelas, even in the midst of the celebratory mood of the World Cup. On Sunday night, hours before Monday's protest, shootouts in various parts of Complexo do Alemão claimed the lives of police officer Fabio Gomes da Silva, 30, and local teenagers Gabriel Ferreira, 17, and Lucas Lima, 15. Last week, 25 year old Afonso Maurício Linhares was refereeing a soccer match outside his home when he was shot and killed by UPP police in Manguinhos, just 6km from where the Chile-Spain World Cup match was taking place.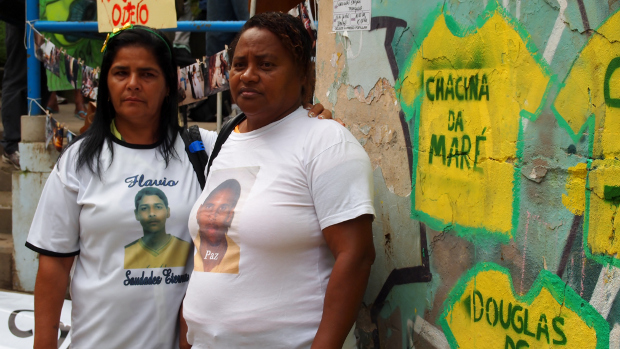 At Monday's event, around 20 people from different communities and organizations gave their testimonials and calls for change before everyone gathered banners and signs and walked down to march along Copacabana beach. There, they joined with more demonstrators from the protest entitled "FIFA, Go Home," organized by the Frente Independente Popular to march past the FIFA Fan Fest towards Pavão-Pavãozinho, where dancer Douglas Rafael da Silva Pereira was killed UPP police on April 22. As well as the march, demonstrators called attention to forced removals by marking crosses in the sand with the names of communities currently facing eviction in Rio. Together protesters called for an end to forced evictions and the militarization of the favelas and for prioritized investments in education, health and sanitation. However as today's announcement of eight new armored tanks – known as caveirões or "big skulls" – to be deployed from Monday in police operations in Rio's favelas shows, the widespread calls for less militarization are not yet being heeded.