"Everything is Wrong!" Protesters in Complexo do Alemão March Against Escalating Violence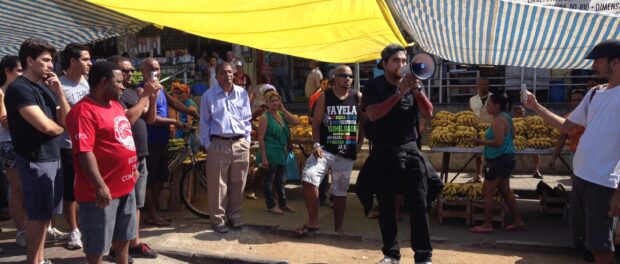 On Saturday August 22, almost 100 community members and journalists gathered in a peaceful protest against escalating police violence in Complexo do Alemão. Alemão, one of Rio's largest complexes of favelas, located in the North Zone, has been the scene of shootings on 81% of days this year, resulting in a total of 21 deaths, a spike from previous years. This particular gathering was the first of four planned protests over the next month, organized by community action group Coletivo Papo Reto. Protesters demanded tangible action to change the constant fear and insecurity they feel at all hours in Alemão, where stray bullets do not discriminate between young and old, innocent or otherwise. The chant "Tá tudo errado," meaning "Everything is wrong," galvanized protesters and united them in the fight for liberty and a safer Alemão.
The protest began with a powerful speech by Coletivo Papo Reto leader, Raull Santiago:
"Today we launch a movement in Complexo do Alemão, a movement that represents the beginning of resistance and struggle for our lives. Talk of peace no longer fits within our reality. Today, we are not here asking for peace. 'Peace' will become a word that is no longer a part of our vocabulary because since the beginning of the year, we have come to believe that peace is the same as war. That peace is the 'thing' that feeds war, 'peace' is what makes us fear within our own community. If liberty to live is what we need, then that will be our war—for the liberty to live within our own community, our own reality, and our everyday lives."
After his speech, other community members took the megaphone and had the opportunity to say what they thought was wrong in the community.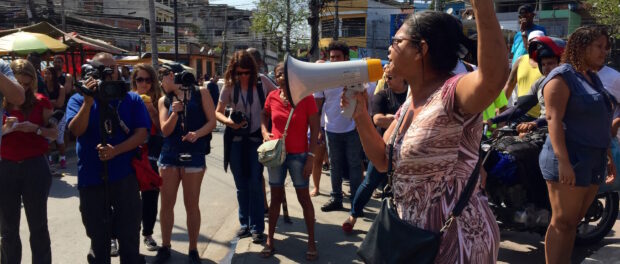 Throughout the march, community members constantly questioned the meaning of 'peace.' "How can I believe in peace? This is the 'peace' the government has brought to Alemão," Santiago said, referring to the constant violence and death that has been a part of their lives through the tenure of the community's Pacifying Police Units (UPPs). The UPPs have been the State government's primary policy for trying to bring about peace in select favelas. Many protesters on Saturday were clothed in black, a direct contrast to a recent protest in early April in which they called for peace and wore all white. "Peace is war and war is peace… today we are not fighting for peace, we are fighting for liberty, for the right to live," said Santiago to the crowd.
While the energized and emotional speakers drew a growing crowd, young families gathered in the shade, painting on large white sheets and drawing signs to carry during the walk around the favela. Enrique, age 7, knelt with red paint, writing the words "Não matem nossos filhos!"—"Don't kill our children!" Red paint was also smeared on white shirts, symbolically representing the blood shed by friends and family in the violence plaguing the complex. Enrique's grandmother, Marilene Valadares, handed him more paint as she discussed why she felt 'everything is wrong.' "In Complexo do Alemão, every day we have more violence. Instead of things getting better, everything is just getting worse. Every day is filled with sadness—you no longer see joy in Alemão."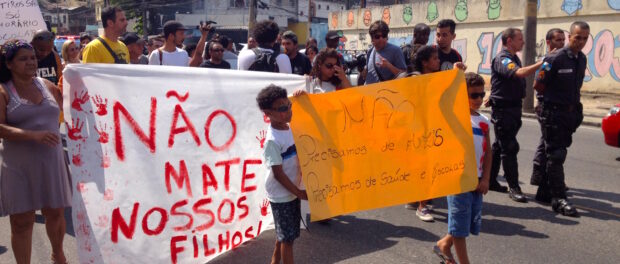 Following the speeches,the group moved out of Alemão's Grota entrance and began the slow march to the UPP headquarters. Traffic slowed to the speed of the march and about twenty UPP officers surrounded the crowd from a short distance, with a police truck and bus taking up the rear. The children carrying signs led the pack, while Raull walked backwards rallying the community through the megaphone. "We have a mission to be heard today. And we will continue to walk down our road, in the favela we have lived our whole lives." Many times during the walk, protesters sang along to Rap da Felicidade (by Cidinho): "I just want to be happy/ To walk in peace in the favela where I was born." Some held signs reading: "Who will be the next victim? Enough!"; "Our fight is for life"; and "Our homes are not shielded."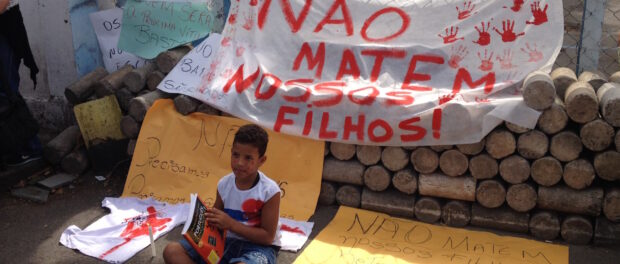 Upon reaching the barbed wire entrance of the UPP compound, signs and posters were weaved into the fence and laid at the feet of UPP officers themselves. Mothers left school books on mathematics, literature, and handwriting, echoing the posters that read: "We do not need rifles. We need health and education." Protesters lit candles and placed them behind a black paper sign reading "Peace?" Red droplets of paint fell over the letters, signifying the blood that had resulted from the government's "peace." The crowd knelt for a short prayer, remembering the names of those murdered so far in 2015.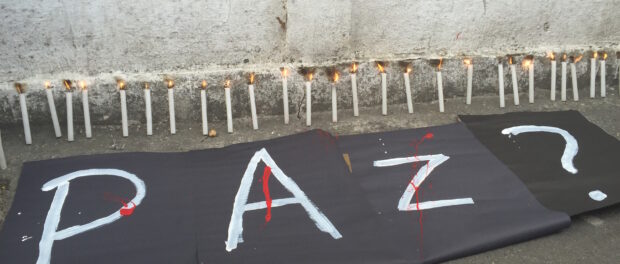 This march is just the beginning of what Complexo do Alemão residents hope will be a big movement for change in the community. "Complexo do Alemão is bleeding every day," Rafael Calazans, another vocal member of the community said on Saturday. "We have to speak, we can no longer remain silent." The second #TáTudoErrado event will be a walk through Alemão on Saturday August 29, followed by a vigil and cultural event on the next weekend, September 5-6.