From Rolês to Blocos: Touring Carnival in Rio's First Favela
This article is part of RioOnWatch's 2020 reporting partnership with The Rio Times focused on favela tourism. For the article as published on Rio Times click here.
With almost two million tourists expected to arrive in Rio de Janeiro this year for carnival, crowds of visitors will undoubtedly flock to the Marvelous City's classic, high-profile spots. Though Sambadrome parades, treks up to Christ the Redeemer, and carnival blocos around the city's downtown Centro area will dominate most itineraries, others may be interested in delving deeper into Rio's history and discovering carnival's roots. There is no better place to learn about Rio, its people, and its massive yearly celebration of all things Brazil than the cultural incubator that is the favela.
Favelas and carnival are inextricably linked. This shared history runs back to the end of the 19th century when soldiers returning from the War of Canudos in Brazil's Northeast formed the first favela, Morro da Favela (today's Morro da Providência). Later, the Morro da Favela community became a samba stronghold as residents established two historic samba schools, Fiquei Firme and Corações Unidos da Favela.
In fact, throughout their history, Rio's most famed and successful samba schools hailed from favelas across the city. Last year, the Estação Primeira de Mangueira samba school from the North Zone Mangueira favela was crowned champion of carnival. Mangueira has won 20 titles, including the very first back in 1932. Samba schools' incredible Sambadrome performances not only capture the imagination of millions, but also serve as a vital medium for leveling critiques against political and social injustices faced in Brazil, including among favela residents themselves. Faced with 2019's context of resurgent attacks on black and indigenous culture, for example, Mangueira's winning parade highlighted historic heroes from these communities, sending a powerful message of resistance. 2020 is expected to do so also.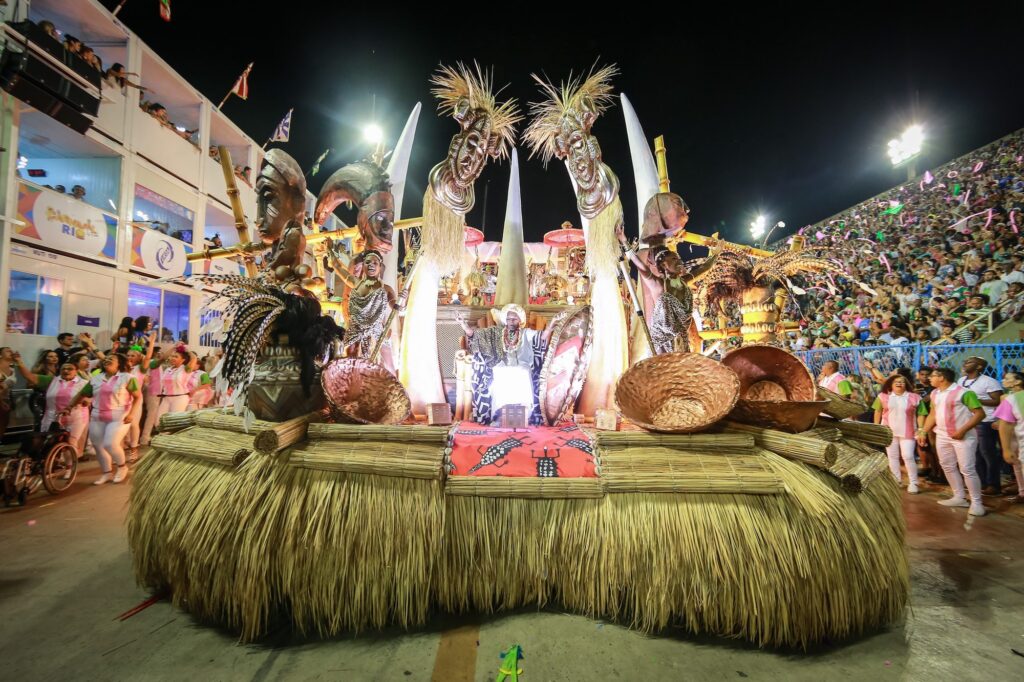 Outside the Sambadrome parades, streets across the city, including in the favelas, become important, inclusive gathering places as musicians and revelers come together to form blocos. While these street parties' raison d'etre is as an opportunity for friends, family, neighbors, and strangers to unite in joyful celebration, blocos also give communities a platform to publicly voice their struggles and concerns, triumphs and aspirations, as is the case of Vagalume o Verde (The Green Firefly), a bloco from the Horto favela dedicated to promoting sustainability and their community's green legacy.
With over 1000 favelas in greater Rio de Janeiro and more than 400 blocos anticipated during this year's carnival season, the array of neighborhoods and events to explore and experience can seem overwhelming. Lucky for interested visitors, there are countless, knowledgeable residents and activists who lead critical tours in their favelas and can provide information on how to best go about enjoying carnival in the favelas.
A Stroll Through the First Favela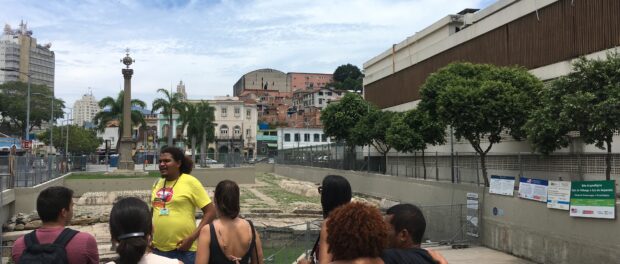 On a sweltering Sunday in mid-February's pre-carnival season, I decided to go back to the beginning and take a look at carnival from the perspective of Rio's first favela: Morro da Providência. First up on the agenda was a guided rolê (jaunt/stroll/spin around the block) with Cosme Felippsen from Providência Turismo. As a professional guide, activist, and life-long resident of Providência, Felippsen provides invaluable insight into the past, present, and future of Rio's original favela.
The two-hour rolê through the streets and alleys of Providência and surrounding areas was well attended by eager-to-learn Brazilians and foreign tourists. We stopped at well-known historic sites that showcased both the tragedies endured by Afro-Brazilians as well numerous forms of resistance and cultural achievement. Highlights included the Valongo Wharf, the largest slave port in history, where two million enslaved Africans disembarked from hellish journeys across the Atlantic, and Pedra do Sal, the birthplace of samba and site of a historic urban quilombo.
From Pedra do Sal we ascended the steep, winding streets up Providência Hill. As we walked, Felippsen painted a picture of stark contrasts, hitting us with the negatives first. Favela residents face countless challenges, he told the group, including limited access to waste removal, basic sanitation systems, healthcare, and education. Perhaps the most glaring example of state neglect that Felippsen showed us was the now-defunct Providência cable car system, a US$19 million government-funded project that resulted in the demolition of dozens of homes and the community's primary public space. The cable cars sat idle for months upon completion, and then were in operation for less than two years. Felippsen described: "Nothing was discussed with us [the residents]. We didn't want the cable car. The priority was basic sanitation, more spots [for students] in primary schools…"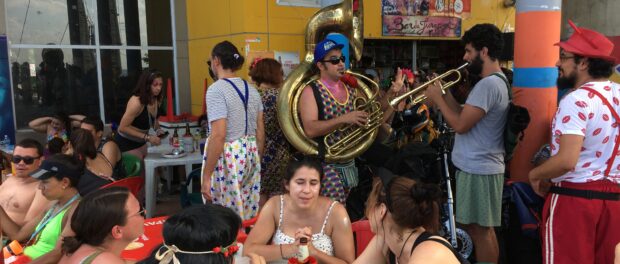 Although the hulking, metal masses of the abandoned system continue to blight the landscape, Providência residents strive to find ways to utilize the occupied spaces. For lunch, we stopped at the popular Bar da Jura: built in the shadow of the abandoned cable station, the bar boasts stunning views of downtown Rio and Guanabara Bay. While Felippsen pointed out that the difficulties of living in a favela are many, he also highlighted the vibrant collection of cultural organizations and social institutions that form Providência's beating heart. Within minutes of starting our walk up the hill, I found my eyes drawn to wall after wall of graffiti art. This open-air art gallery not only beautifies the houses and passageways of Providência but also proclaims the stories of residents to the world in dazzling color.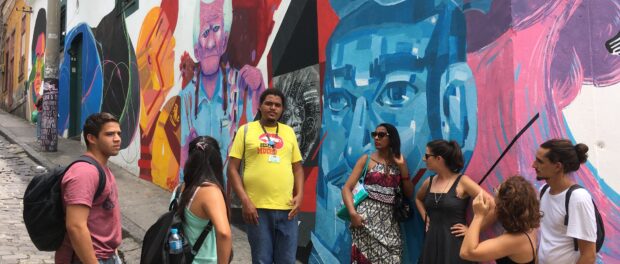 Felippsen introduced us to a number of community organizations that work to empower the residents of Providência, from the unmistakably designed Casa Amarela arts center to the bustling Eduardo Cardoso Boxing School. By the end of the rolê, I had gained a profound appreciation for the diversity, creativity, and resistance present in Providência and favelas across Rio: above all else, Felippsen made it his goal to address misconceptions and deconstruct stigmas regarding favelas. Going beyond the role of a regular tour operator, Felippsen guided us through discussions of controversial political topics such as policing and state violence. Our conversations were some of the most constructive moments of the rolê.
And a March Downhill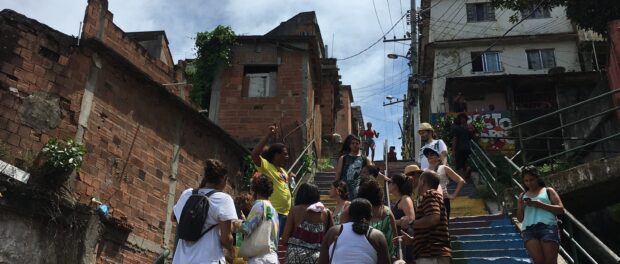 To cap off my pre-carnival experience in Providência, I participated in the riotous Bésame Mucho bloco. The bloco's distinctive Latino flair found its inspiration in the background of its creating artists, most of whom are immigrants from countries across Latin America. Starting at the Bar da Jura and ending at the base of Morro da Providência, the bloco's motley crew of tourists and residents danced down the narrow, winding streets as the brass band blared Celia Cruz's "La Vida Es Un Carnaval" and Luis Fonsi's "Despacito." Along the parade route, spectators hung from upper story windows to soak in the scene. Cars honked along with the songs' rhythms (and in an attempt to part the crowds). Iridescent smoke and foam filled the air.
At first, the gringo-heavy bloco jarred in contrast to Felippsen's critical, historical rolê. As foreigners and locals alike began to march together, however, sharing the streets of Rio's oldest favela, the juxtaposition began to make sense—the day's message was one of solidarity and destigmatization through and through. In a matter of hours on that scorching Sunday in the heart of Rio, Felippsen had managed to weave an understanding of the political, social, and cultural forces that had formed and molded the city and the favela over the last century. Far beneath the glittery veneer of the Sambadrome parades, this was the core of the Marvelous City, favela residents practicing and experiencing joy daily, marching against the challenges of 21st century Rio.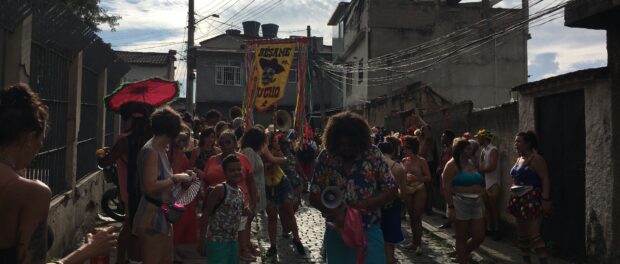 Looking to celebrate Carnival at some of the blocos in Rio next year? Check out the favela parades in Vidigal, Providência, and Horto.
This article is part of RioOnWatch's 2020 reporting partnership with The Rio Times focused on favela tourism. For the article as published on Rio Times click here.
---
Support RioOnWatch's tireless, critical and cutting-edge hyperlocal journalism. #FundFavelaReporting: bit.ly/DonateToRioOnWatch